As the season changes from Summer to Autumn, I'd like to introduce you to some brilliant books about the natural kingdom.  Children always seem to fascinated by the world around them, particularly creepy-crawlies and wildlife.  The books featured in this blog post will inspire children to go outside and hunt out the plants and creatures shown on their pages.  There's something for readers of all ages – including TWO fantastic colouring book giveaways!
A Beetle is Shy by Dianna Hutts Aston and Sylvia Long
Another collaboration from the award-winning duo which teaches us about the fascinating world of beetles.
This book will capture the imaginations of budding entomologists young and old.  Beautiful watercolour illustrations encourage the eye to linger on the page whilst the poetic text informs and explains.
My son loved discovering the huge variety of beetles and spent a long time poring over the pages.  He even requested a jewel beetle costume for his school's Ugly Bug Ball!
As well as showing the beetles in their natural habitats, they are also painted next to everyday objects to provided an idea of scale, with the Titan Beetle by a ruler and the North American Featherwing Beetle by the eye of a needle.
An absolutely gorgeous book!  Thank you to Chronicle Kids for sending it to me.
British Wildlife from the QED Team
A fantastic visual dictionary of all that's great about British wildlife.
Packed full of detailed illustrations, this really is a comprehensive guide for wildlife-lovers.  Younger children will enjoy studying the pictures, whilst older readers can read snippets of information about the creatures and their habitats.
Clever use has been made of questions to draw the reader into the book and encourage them to engage in conversation with whoever they're sharing it with.
There are sections on everything from 'Nibblers and Grazers' to 'Night-time Neighbours', really highlighting the diversity of the wildlife we enjoy in the British Isles and making me aware of just how few of the species showcased I have actually seen for myself in the wild!
A brilliant companion for a walk on a crisp autumnal day.
Botanicum curated by Katie Scott and Kathy Willis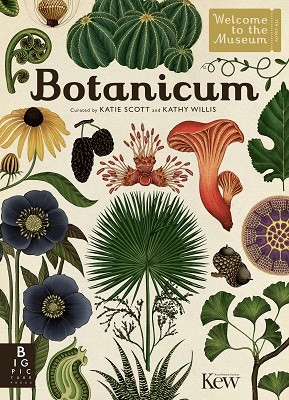 This gorgeous book has been produced in association with Royal Botanic Gardens, Kew.  Opening up its pages is just like having your very own plant museum at home.
There are stunning illustrations of plants ranging from the Turkeytail Fungus to the Cobra Pitcher Plant.  The whole feel of the book reminds me of the beautiful and detailed natural studies produced by gentile Victorian ladies to pass their time.
Of course, there much more to this book than simply passing the time!  Organised into different categories, the vast variety of flora and fauna represented on the pages will boggle young readers' minds.  They'll be spellbound by the illustrations and exotic names.  Older readers will enjoy learning the latin names for these plants and finding out the background behind them.
Thank you to Big Picture Press for sending me this truly stunning book to review.
Animalium Colouring Book curated by Katie Scott
Part of the same 'Welcome to the Museum' series as 'Botanicum,' our next book is a fabulous colouring book version of the bestselling 'Animalium.'
On its pages, hundreds of intricate line drawings of creatures great and small are featured for you to carefully colour in: lions, jellyfish and parrots are all included.  As well as providing entertainment as the nights start to draw in, you'll also learn something new.  Alongside the beautiful illustrations are plenty of interesting facts and pieces of information for you to absorb as you colour.
If you'd like to WIN this colouring book for yourself, please comment below with the name of your favourite animal.
Thank you again to Big Picture Press for sending me this copy to review.
A Year in the Garden Colouring Book by Clair Rossiter
Finally, we have a beautiful colouring book produced in association with the Royal Botanic Gardens at Kew.
This colouring book  features a little bit of everything.  There are delicate flowers, amazing wildlife and seasonal garden scenes for you to colour into bloom.
As you progress through the book, the seasons change until you arrive at Christmas to end the year.  Also included on the pages are little questions and comments designed to make you look more closely at what you're colouring.
If you'd like to WIN this colouring book, please comment below with your favourite month of the year.
Many thanks to Bloomsbury Publishers for sending me this copy to review.
So there you have it, my round-up of some of the newest 'natural' releases around.  Which one will you go wild for?
Don't forget to type your response in the comment box below if you'd like to win one of the two colouring books. (Giveaway closes on Monday 26th September.  Please get parental consent if under 16 years old.)
Library Girl.