For this blog post, I have chosen two fantastic books which celebrate  the importance of being yourself and pursuing your dreams.
'Duck Gets a Job,' by Sonny Ross
Duck wants a job. All his friends quack on and on about how amazing their jobs in the city are. Duck thinks their jobs sound a bit boring but he picks up a newspaper and applies for a position.
He's very excited to be offered an interview.  But then the nerves and self-doubt kicked in – what should he dress?  What should he say?  How should he travel?  Duck decides on 'professional' and 'by taxi.'
Despite being very nervous, Duck gets the job. However, working in the city is not all it's quacked up to be and Duck finally makes his mind up about what he wants to do…follow his dream to become an artist.
This book makes good use of a limited muted colour palette which adds a 'vintage' feel to its pages. The illustrations themselves are bold and clean. One of my favourites comes at the very end where we see Duck rolling away on his skateboard and into the light, leaving his drab, grey friends behind him.
There is a very strong message about not following the crowd and  pursuing your own interests within this story. This is in large part due to the fact that the story is semi-autobiographical, based on Sonny Ross's own experiences of starting out as a young illustrator.
Readers will be rooting for Duck as he struggles to find his place in the world of work and dares to break free and pursue his real interests.
'Odd Dog Out,' by Rob Biddulph
Odd Dog lives in a busy city where every dog has its place: swimmers, sailors, soldiers, campers. No one stands out.  No one except Odd Dog.  No matter how hard she tries, she never quite fits in.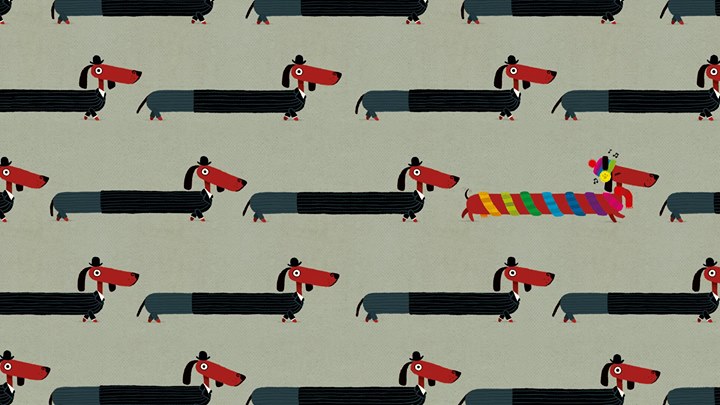 Feeling very dejected, Odd Dog hops on her BMX and decides to head out of town with her guitar on her back.  She walks and walks until she finds a place where she feel she might fit in – the fabulous Doggywood!  There are hundreds of dogs just like her!  But is being the same as everyone else all it's cracked up to be?
The pages of this book are splashed with colour and joy.  I love all of Rob Biddulph's books and this one is just as fabulous as the others.  But I think the positive proclamation on the final pages really says it all – 'So blaze a trail.  Be who you are.'  With the constant bombardment of adverts and social media telling us what to wear and who to look like, it's more important than ever to stay true to who you are.
Library Girl.
*Thank you to Bonnier Publishing for sending me 'Duck Gets a Job' to review*